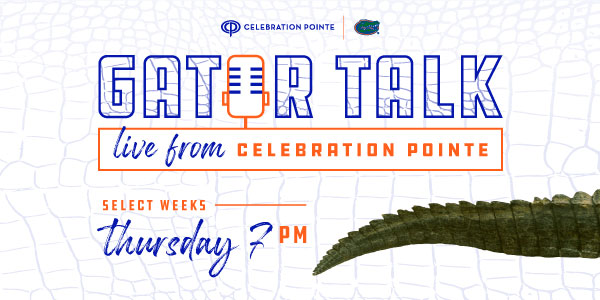 GATOR TALK
Join us at Spurrier's Gridiron Grille for Gator Talk this fall on Thursdays!
In a partnership with the University of Florida Athletic Program, Celebration Pointe hosts Gators-centric events to highlight Florida Gators sports.
Gator Talk is the University of Florida's weekly hour-long coaches' show providing insight into the various athletic programs.
September 16 – Coach Dan Mullen
September 23 – Coach Dan Mullen
September 30 – Coach Dan Mullen
October 7
October 14
October 21
October 28
November 4
November 11
November 18
December 2
The show broadcasts live every Monday from 7-8pm across 38 radio affiliates statewide and will feature UF coaches discussing both recent games and upcoming opponents. Fans will have the chance to ask questions.
You can also submit questions online or use #GatorTalk on Twitter.