FIRST FRIDAY
First Friday @ Gather Gallery at Hotel Indigo
6:00-9:00pm
Featuring art within the lobby and space from local artists. 
This month's local artist is Richard Joseph. 
ABOUT: 
A 21-year-old artist fr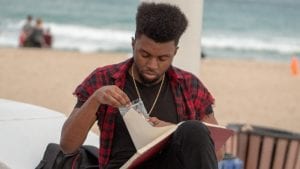 om Boynton Beach that moved to Gainesville to study at UF.
"As an artist, one of the masters I look up to is Basquiat. He wants to showcase my artwork at Hotel Indigo Gainesville because I wanted the people in my community to experience art in an intimate way.
Guided by passion, pain, and sometimes fear, my journey as an artist has been very perplexing. I try to interpret things in my own way, bringing new meaning to something that already exists. I also try to create new things that look like they could, or already exist in our world. At the very least I try to make the viewer look at it differently while immediately being able to recognize what it is.
If I wrote about this six months ago you would hear something different, which is why a lot of art in this showcase won't share this philosophy. I mainly want to show my most notable pieces from the past few years because I have not had the opportunity to do so until now. This also allows me to show what I am capable of and different phases of my creativity. Beyond my own personal goals as an artist, I also want art to be more accessible to everyone.
During the show I will encourage people to look at the art, move it around, do whatever they want to experience it the way they want to. It will be a relaxed environment that will allow people to casually or profoundly enjoy my art."
Guests can view artwork, as well as interact with the artist. Light snacks provided, and beverages are available for purchase. The event is free and open to the public.