LOCATED IN THE HEART OF NORTH CENTRAL FLORIDA ON THE WEST SIDE OF GAINESVILLE, FL
Celebration Pointe is strategically positioned at the intersection of I-75 and Archer Road. Highly visible and uniquely situated with I-75 to the east and 700 acres of open space conservancy to the west, the 125-acre, one million plus square-foot, mixed-use development will revolve around a highly amenitized and an energized main street dubbed "City Walk."
Shopping & Services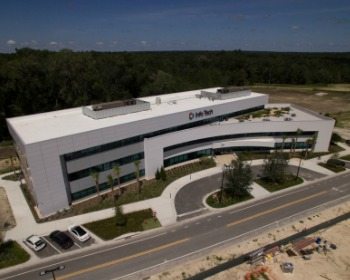 InfoTech
Info Tech, a leading provider of software and other solutions that facilitate highway and infrastructure projects, could help lead the growth of Celebration Pointe into a thriving technology center. The 40-year-old company will occupy a 65,000-square-foot headquarters, and its 300 employees will have direct access to a massive trail system and 700-acre nature preserve, as well as a huge rooftop deck area. The company offers a variety of products and services that enable e-Construction initiatives – the collection, review, approval and distribution of highway construction contract documents in a paperless environment with an emphasis on the use of mobile devices.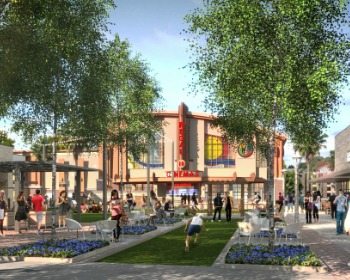 Regal Cinemas
Regal Entertainment Group's deluxe 10-screen theater featuring RPX technology will include king-size recliners with padded footrests and a lobby complete with a full bar and lounge. Stay tuned for more exciting news.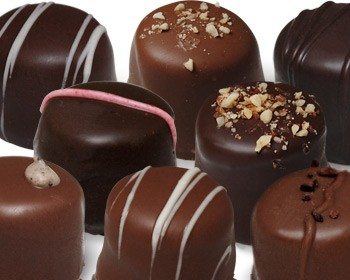 Kilwins
Welcome to the Kilwins Chocolate Kitchen where people celebrate, vacation and share the experience of life, family and gifting in a very special nostalgic Americana setting. We are proud of our "family" heritage of providing our customers with high quality products and a warm friendly customer experience. Visit us at Celebration Pointe to enjoy the finest quality, traditional down-home confections priced with a value that focuses on being kitchen made fresh from premium ingredients and original recipes.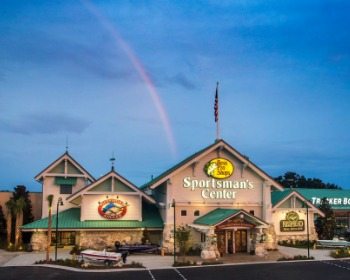 Bass Pro Shops
Bass Pro Shops was founded in 1972 by avid young angler Johnny Morris on eight-square-feet of space in the back of his father's liquor store in Springfield, Missouri. Today, the leading national retailer of outdoor gear and apparel has more than 100 retail and marine center locations across North America, including the center at Celebration Pointe.
HOURS
Monday – Saturday: 10AM – 9PM
Sunday: 10AM – 7PM
CONTACT
(352) 204–4100
LOCATION
4526 SW Archer Rd,
Gainesville, FL 32608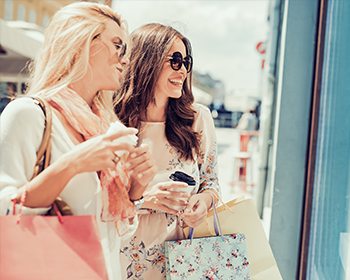 Coming Soon
With construction underway and contract signings abound, the full-fledged Celebration Pointe shopping experience is right around the corner. A unique retail experience weds bountiful shopping with a pleasant, natural environment.  Enjoy a stroll through an oak-lined pathway, bordered by the best in athletic gear, high fashion, boutique-wear, and more. From top national brands to your favorite local establishments, CityWalk and The Shops will have it all. Can't wait? Check out Bass Pro Shops or the soon-to-come Regal Luxury Cinema.
Join the celebration! Sign up today to get the latest details about Celebration Pointe.
Sign Up Now

►
Dining
Celebration Pointe will be home to a variety of culinary options. From convenient fast casual, to classic pub fare, to exquisite fine dining and everything in between, you'll find there are ample options for every person and palate.
Kilwins Chocolate
Fudge & Ice Cream
Celebration Pointe is thrilled to bring a Kilwins to Gainesville, Fl. Specializing in ice cream and other sweet treats such as toffee, caramel and fudge Kilwins will certainly cure anyone's sweet tooth.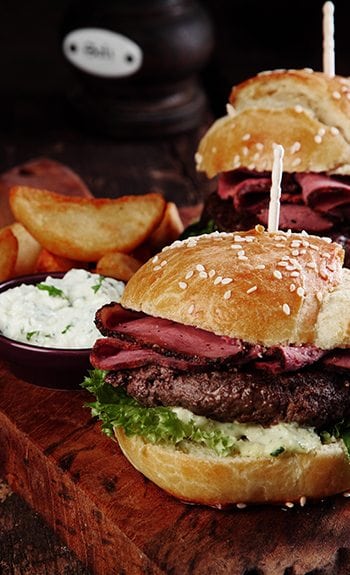 Coming Soon
Join Celebration Pointe
Snacks. Dessert. Quick lunches. Five-star meals. Happy hour deals. Sunday brunch. Game day grub. Sunday brunch that turns into game day grub. Hearty brews. Tall drinks with little pink umbrellas. Appetizers. Hors d'oeuvres. Tapas. Foods that sound different but are really the same. Fast casual. Medium casual. And of course, chocolate. And fudge. We repeat, chocolate and fudge. Even fresh vegetables, if that's your thing. No matter your tastes, no matter the occasion, Celebration Pointe will have something to suit your appetite. Pull up a chair?
Live
Residents of Celebration Pointe will have it all — convenient shopping, diverse dining experiences and best-in-class entertainment. Oh, and it's all within walking distance of where you live. Celebration Pointe is more than just another apartment or town home complex, it's a way of life, a vibrant and engaging community, a place you can be proud to call home.
Interested in living at Celebration Pointe?
Contact

►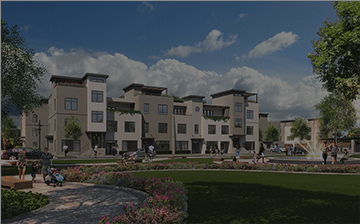 The Vue
As Celebration Pointe's only "for sale" residential offering, The Vue represents a key part of our live-work-play-shop design. The highly appointed and secluded city home community will feature 107 total units nestled next to a 700-acre conservation area and the popular Archer Braid Hiking and Biking Trail. Residents will enjoy unmatched views of Gainesville's largest nature preserve, while at the same time relishing walkable access to all of Celebration Pointe's many amenities and attractions.  These town homes will provide the comforts you expect, as well as unique touches like elevators and roof-top decks.
Amenities include:
86 City Homes
Elevators Available
Roof-Top Decks
Adjacent to 700-Acre Preserve
Learn more about leasing at The Vue by calling CP Realty, at (352) 333-9333 or filling out this form.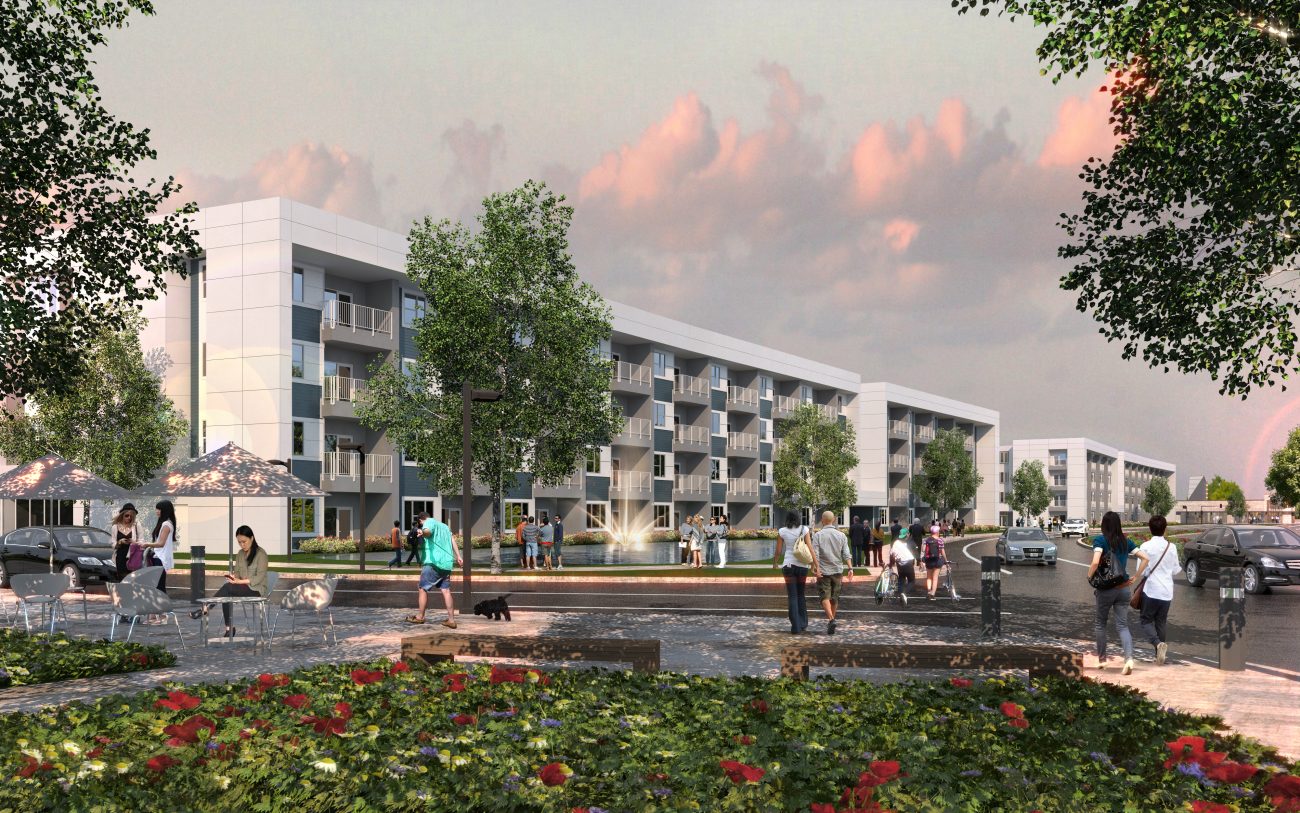 City Place
Looking for the finest in apartment life? This is the place. City Place will offer some 520 garden-style four-story luxury apartment homes perfect for young professionals. The card-accessed one-, two-, and three-bedroom apartment homes will boast open floor plans, a private clubhouse and pool area with enviable amenities, access to concierge service, and the latest technological advances.
What's more, City Place will sit adjacent to City Walk, connecting residents via vehicular and pedestrian walkways to Celebration Pointe's many dining, entertainment, employment and hospitality offerings, as well as the Archer Braid Trail and the area's largest nature conservancy.
Only minutes from Interstate 75, the University of Florida and UF Health, the Gainesville Airport, and so much more, City Place provides a unique living experience that can only be found at Celebration Pointe.
Amenities include:
Surface Parking
1 bed/1 bath – 3 bed/2 bath
Balconies/Porches each unit
Modern Finishes
24-Hour Security
Cox Home Life in All Units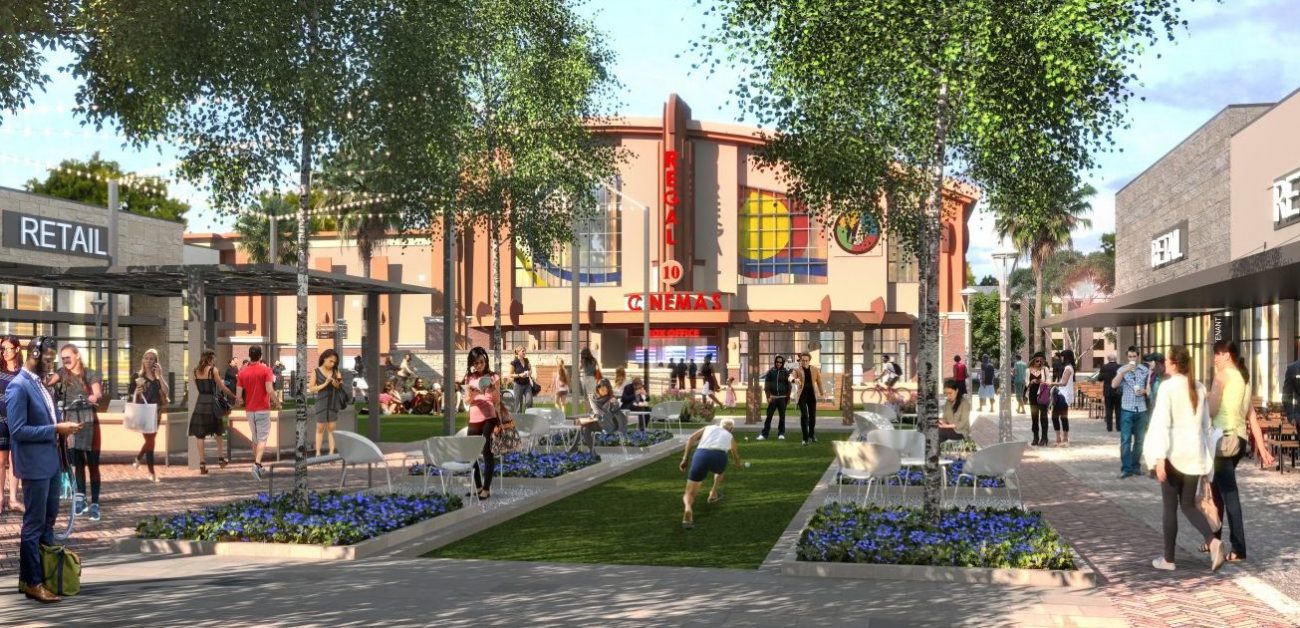 Entertainment
Residents and guests alike will enjoy all that Celebration Pointe has to offer, including the area's first state-of-the-art luxury-seating theater — featuring online reserved seating. Regal Cinema's 10-screen theater will include king-size recliners with padded footrests and a lobby complete with a full bar and lounge. Stay tuned for more exciting news.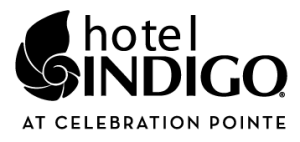 Celebration Pointe won't just be for residents of Gainesville – guests will be able to enjoy a best in class 140-room Hotel Indigo. Set to open by mid 2018, this uniquely designed hotel is conveniently located in the heart of the main street and within walking distance of Celebration Pointe's restaurants, entertainment, retail and office.